Case Study: Soda Fire ESR and Monitoring Efforts
Project details:
The Soda Fire started on August 10, 2015, was contained on August 23, and burned nearly 280,000 acres of federal, state, and private lands in southwest Idaho and eastern Oregon.
The area burned included nearly 200,000 acres of sage-grouse habitat, with over 50,000 acres of PHMA, portions of 41 grazing allotments, three wild horse management areas, and a popular recreation area.
The Soda Fire Emergency Stabilization and Rehabilitation (ESR) plan was the first large scale fire to be planned and implemented following the release of Secretarial Order 3336 – Rangeland Fire Prevention, Management and Restoration.
The Record of Decision on the Soda Fire ESR plan was issued by the BLM Boise and Vale Districts on October 21, 2015. The plan identified treatments to begin stabilizing the burned area, promote the recovery of native communities, increase perennial grasses, reduce invasive annual species, and restore shrubs and forbs to take the first steps toward the recovery of habitat for the Greater Sage-Grouse.
This collaborative effort involved the U.S. Fish and Wildlife Service, Natural Resources Conservation Service, Idaho Department of Lands, Idaho Department of Fish & Game, and the Bureau of Land Management.
Rehabilitation treatments:
Gathered 283 wild horses from three burned Herd Management Areas.
Over 28 miles of roads and 150 miles of recreation trails repaired.
Drill seeded 17,257 acres of BLM and State of Idaho land at sites with high soil erodibility factors.
Completed 27,426 acres of aerial herbicide application (imazapic) for suppressing annual invasive grass germination for native plant release and seed bed preparation.
Aerial seeded over 200,000 acres to rehabilitate areas impacted by fire suppression, increase perennial grass densities in areas impacted by invasive annual grasses, increase shrub and forb densities, and provide sage-grouse preferred forbs in and around lek areas.
Planted 492,140 sagebrush and bitterbrush seedlings in fall 2015 and spring 2016; additional seedlings are being grown and will be planted in fall 2016 or spring 2017.
Developed two 25-acre test plots of Pseudomonas fluorescens (D7), a naturally occurring soil bacterium, to test the effectiveness for reducing annual invasive grass over time.
Contracted for repair of over 300 miles of grazing management fences damaged by the fire.
Approximately 30 miles of temporary fence have been constructed to protect treatments where portions of grazing allotments were burned.
Partnered with USGS to conduct the vegetative treatment monitoring, data collection, analysis, and reports for the Soda ESR project. The BLM worked with partners to develop a 'Rapid Assessment' method using 2,000 data points to cover a large fire with many integrated ecotypes and treatments.
The BLM Owyhee Field Office signed an emergency decision on May 5, 2016, authorizing the construction of up to 25 miles of fuel breaks in the highest-priority area of the wildland-urban interface. The fuel breaks included approximately 200 acres of targeted grazing and mowing along with improvements on up to 25 miles of roads.
Idaho and Oregon ESR/Fuels First Year Observations
The Soda Fire Emergency Stabilization and Rehabilitation (ESR) project is a collaborative effort that brought together BLM ESR and Fuels staffs from Oregon and Idaho as well as other agencies and partners together to design and implement stabilization, rehabilitation and fuels projects using a landscape approach. It is important to note that the effort made by the Type I and Type II Incident Command teams to keep the local communities involved during suppression helped set a positive and collaborative atmosphere that was continued after the fire.
The collaborative efforts associated with Soda ESR involved meetings for discussion and collaboration on treatment design across the landscape as well as out-year planning and implementation. The inclusion of other agencies and the public reflects the "All Hands, All Lands" approach and allowed different visions and needs to formulate treatment design. Principles from the National Seed Strategy such as "the right seed in the right place at the right time" and selection of shrub species based on provisional seed transfer zones were used.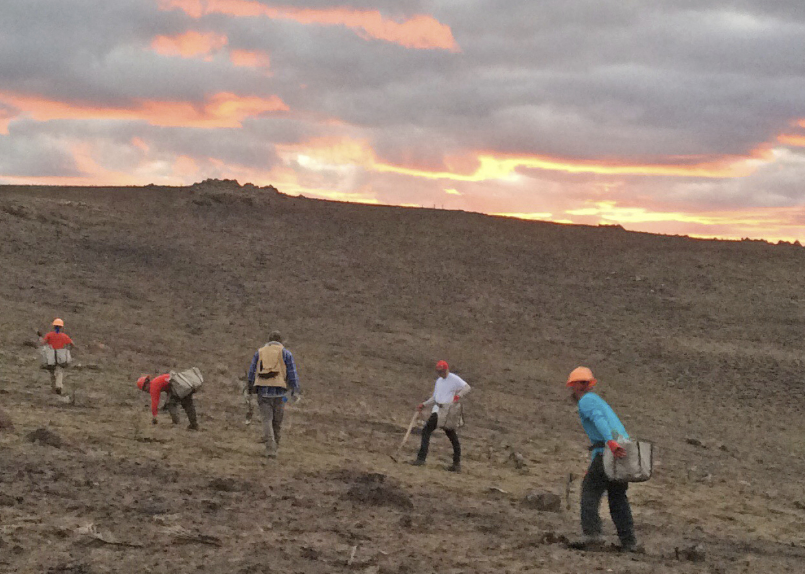 Soda planting crew
ESR treatments addressed both vegetation and multiple-use issues. Non-vegetation related issues include hazardous material removal, abandoned mine lands (AML) closures, wild Horse Management Areas (HMAs), cultural concerns, facilities repair from fire damage, road improvement to improve water drainage capabilities and culvert installation, recreation site trail rehab, fencing to protect treatment investments, threatened and endangered species habitat. Vegetative treatments include drill seeding; imazapic (herbicide) application; aerial grass, forb and shrub seeding; sagebrush seedling planting; and noxious weed inventories and treatments. BLM personnel from surrounding offices were invaluable to helping complete the numerous implementation projects.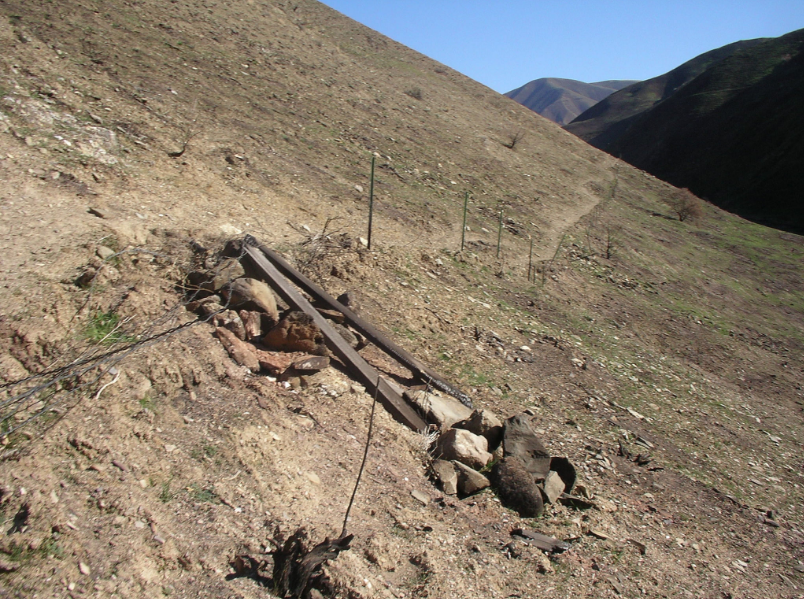 Soda fence repair
Immediate emergency needs following the Soda Fire were addressed even before the ESR Soda Fire plan was completed. Three HMAs were affected by the Soda Fire and an emergency wild horse gather was initiated. The Soda Fire burned through a previously identified hazardous material site and with loss of vegetation a rain event would have the potential to move hazardous material downstream. An emergency hazardous material clean-up was initiated and the hazards were removed. Early identification, funding approval, and quick procurement enabled these projects to begin prior to plan completion and approval.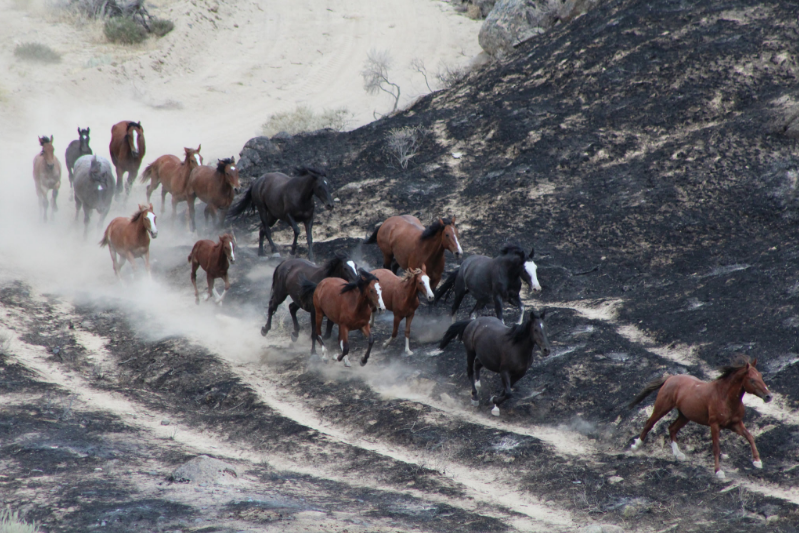 Soda horse gather
To proactively protect the recovering vegetation a fuel break project that crosses both Idaho and Oregon within and adjacent to the Soda Fire is expected to begin soon. Implementation of fuel breaks would improve fire fighter access and change the fuel characteristics adjacent to roads so fires can be more effectively controlled.
An important outcome of Secretarial Order 3336 was elevating invasive species to be equal with fire as a problem across the landscape. It gave as much importance to treating invasive species as we do with fire suppression efforts. The Soda Fire and resulting ESR and Fuels treatments applied this principle across a large landscape. The Secretarial Order 3336 also promoted development of adaptive management techniques allowing for evaluation of vegetative response to treatments and determination of the need for additional treatments.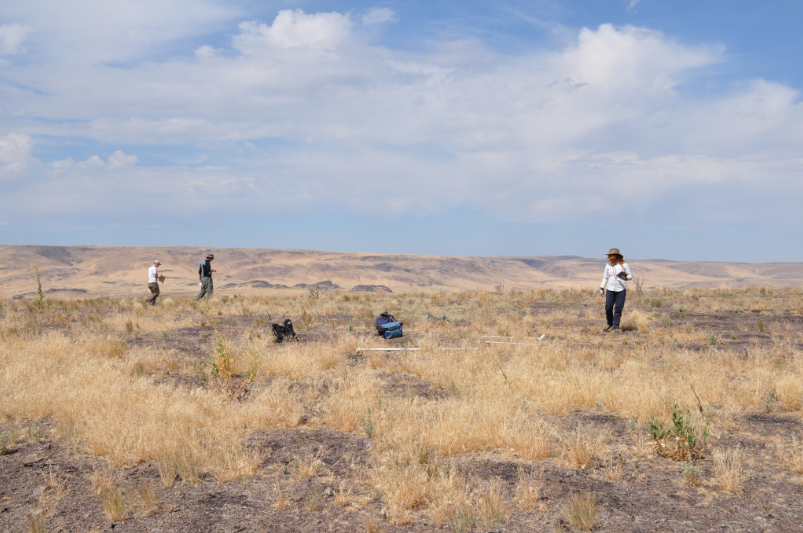 Monitoring crew
Secretarial Order 3336 allows vegetation treatments in ESR to occur over a longer period of time (up to five years for Soda) as well as allowing for multiple year, multiple layered treatments. The intention was to continue treatments until a desired or favorable outcome is achieved, instead of just one round of treatments.
Public tours and education have regularly occurred since the Soda Fire. These tours have been informative for both agency and the public. This forum has provided the BLM and partner agencies an opportunity to coordinate with the public as well as provide further insight to the intent and efforts of the Soda Fire ESR project and fuel break treatments. The public, local and national BLM managers, as well as special interest groups have been able to provide their comments, concerns through site-specific, on-the-ground tours.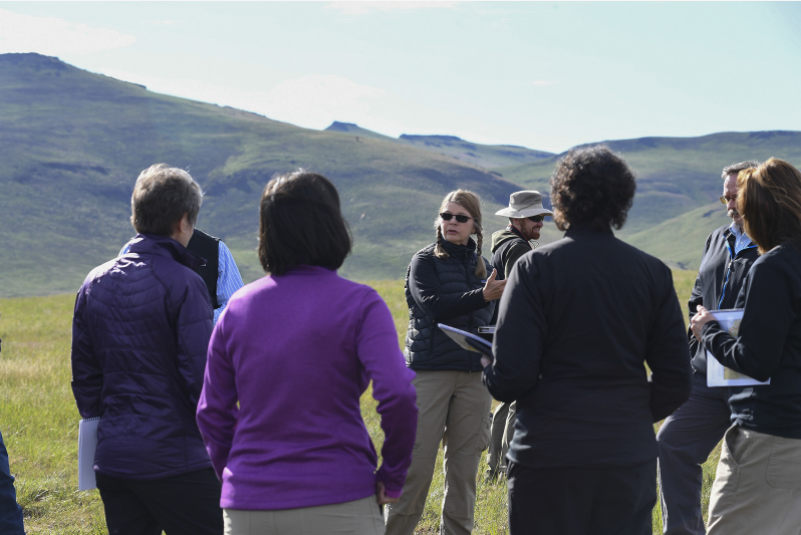 Partners discussing on field tour
Joint BLM and USGS Monitoring
Following the Soda Fire, grazing resumption objectives and a monitoring plan were developed through a collaborative process with federal, state and local partners including Natural Resources Conservation Service (NRCS), United States Geological Survey (USGS), United States Fish and Wildlife Service (USFWS), Idaho Department of Fish and Game, Idaho Department of Lands, Idaho State Department of Agriculture,and Oregon Department of Fish and Wildlife. The monitoring plan and grazing resumption objectives resulted from comments and suggestions from scientific community and federal, state and local partners from Idaho and Oregon. Some of the members of the scientific community and land management community included Dave Pyke (USGS), Matt Germino (USGS), and Mike Pellant (BLM). The collaborative approach has been valuable because it brings diverse skills and experience from the partners; the goal of this approach has been to identify vegetation objectives that could provide the initial foundation for resistant and resilient landscapes after the Soda Fire.
The Soda Fire monitoring needs were determined to be significant early in the process. It was also recognized that the USGS has knowledge and skills that could complement the District ESR teams. Monitoring and analysis of over 2,000 plots was completed in 2016 by USGS with close coordination and facilitation by BLM.