In the arid regions of the sagebrush steppe, success rates for seeding efforts with native plants are notoriously low. The lack of success is because much of the effort to restore rangelands with desired species has been based on the scaling-up of row crop agriculture technologies (e.g., seeding with seed drills), without taking the time to define specific ecological barriers to restoration success or practices to overcome these barriers. Limiting factors impairing seed establishment have their greatest impact during the early stages of plant development (James et al. 2011). Subsequently, restoration practices that can avoid or improve tolerance to limiting abiotic and biotic stresses during early stages of plant development should have a higher likelihood of success.
Watch the video of Tony Svejcar discussing these emerging technologies first and then review the details of the enhanced technologies below (Madsen et al. 2013).
Seed enhancement technologies allow for the physical manipulation and application of materials to the seed that can influence germination, emergence, and/or early seedling growth as well as facilitate planting and the delivery of other materials required at the time of sowing (Taylor 2003, Halmer 2008).
Film coating, encrusting, seed coating, and pelleting techniques are commonly used enhancement technologies in the seed industry for applying materials to the surface or external portions of the seed.
Some specific precision restoration methods include the following (Madsen et al. 2012a, 2012b, 2013):
Soil water Repellency: Overcoming soil water repellency using surfactant seed coatings. As shown in the illustration:
a) A seed is coated with a soil surfactant to overcome hydrophobic soil conditions.
b) Subsequent precipitation releases the surfactant into the soil, overcoming the water repellent layer and resulting in a hydrophilic conduit within the microsite of the seed.
c) Then, enhanced soil moisture promotes seed germination and seedling survival.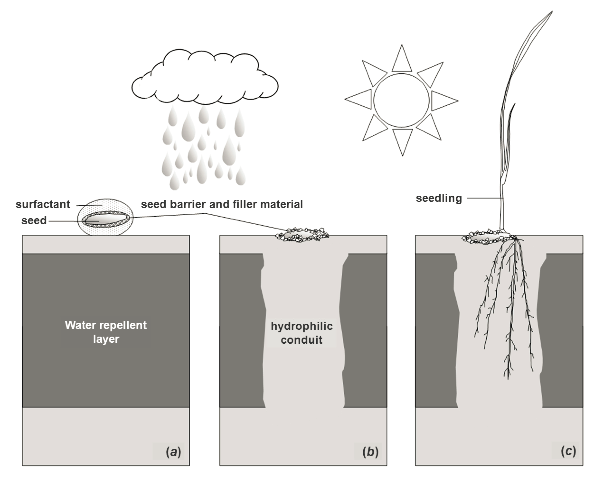 Clumping: Clumping (or agglomerating) of seeds into pellets to enhance native seedling emergence and growth. Agglomerated seeds may have improved emergence because the force of emerging seedlings increases with the number of seeds sown in the same location and allows them to break through the soil crust. As shown in the illustration:
a) Seedling emergence being impeded by a physical soil crust layer.
b) Multiple seeds in an agglomerated pellet are able to push through the soil crust.

Extruded Seed Pellets: Extruded seed pellets or pillows facilitate the planting of small, low vigor, or difficult to germinate seeds. The illustration shows:
a) Seeds attached to a seed pillow.
b) Precipitation melts the pillow material over the seeds and enhances seed/soil contact and seedling growth.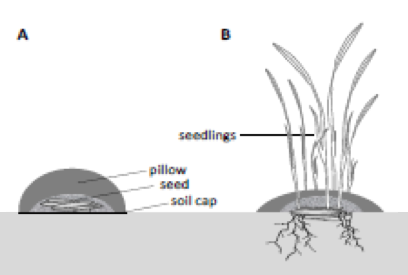 Time-release seed coatings to prevent early germination of fall-sown seed.
Improving herbicide selectivity through herbicide protection pod technology.
Given the potential for failure of "traditional" restoration, these techniques may be economically very valuable for some projects. The actual cost of a successful restoration treatment on a unit area basis can be thought of as the cost of the treatment divided by the probability of success (Boyd and Davies 2012). For example, if we assume a rehabilitation cost of $250 per hectare and a 10% probability of success, the cost outlay for every successfully rehabilitated hectare is $2,500. If the success rate is increased to 50% using precision seed enhancement technologies, then cost per successful hectare drops to $500 (savings of $2,000 for each successfully rehabilitated hectare).